View All Articles
Is Home Healthcare Right for Me?
When a patient needs skilled medical care but doesn't need round-the-clock supervision in a hospital, home healthcare can provide the solution. A serious illness or injury may mean you can't get to outpatient services but still need intermittent nursing, skilled nursing or therapy care. Skilled nursing means the services require a physician's order and are provided by a licensed professional.
Who Needs Home Healthcare?
Candidates for home healthcare include someone with a complicated, non-healing wound as well as those needing IV infusions, tracheostomy care or colostomy care. In other words, they need skilled professional help, but are too sick to seek help in the community.
Home health clinicians perform all of the same work as our counterparts in acute care settings. The primary difference is that we do our work in the patient's home instead of at the hospital bedside.
What Medical Professionals Are Part of Home Healthcare?
Home healthcare programs usually provide:
Both registered and licensed practical nurses to assist patients at home with wounds, IV infusions, medication management and chronic disease management for conditions such as diabetes or hypertension.
Physical, occupational and speech therapists to develop and or teach customized home exercise programs that help patients safely transition to their level of functioning prior to their injury or illness.
Medical social workers who can help patients connect with appropriate community resources such as transportation, meal delivery and counseling.
Home health aides to assist patients with activities of daily living such as dressing, bathing and meal preparation.
What Are the Benefits of Home Healthcare?
When given a choice, 9 out of 10 people prefer to receive care in the familiar environment of their home rather than in a hospital. In some cases, recovery at home can be faster than in a skilled nursing facility.
Not only can the process be better for the patient, home health involvement also can benefit family members and caregivers, too. Family members and caregivers often change their lifestyles to accommodate a loved one, and having the added resources of a nurse or therapist to aid with care is usually met with great appreciation.
Providing care in the home does have its challenges. In a home, there may be more risk of infections, falls or non-compliance. Home healthcare professionals bring a spirit of creativity in helping minimize these risks, knowing that despite the challenges, patients are happiest in their homes, which makes healing there much more favorable than recovering anywhere else.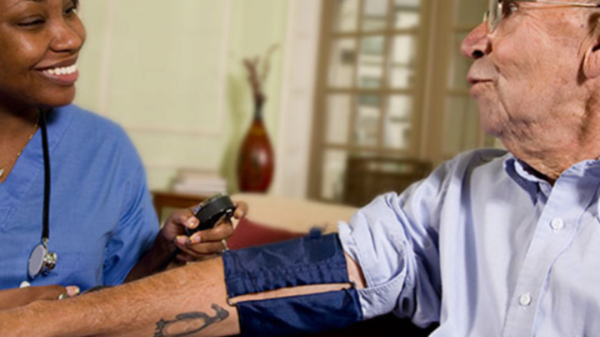 Want to Learn More About Home Health services?
Our goal at Orlando Health South Lake Hospital is to provide the best quality care that maintains the comfort and quality of life of our patients. The extensive home health services we provide empower our patients to live independently while recovering from illness or injury.
Learn More