Orlando Health South Lake Hospital Named One of the Nation's 100 Top Hospitals® by Fortune and PINC AI™
The hospital demonstrated lower inpatient mortality rates, with fewer readmissions and complications.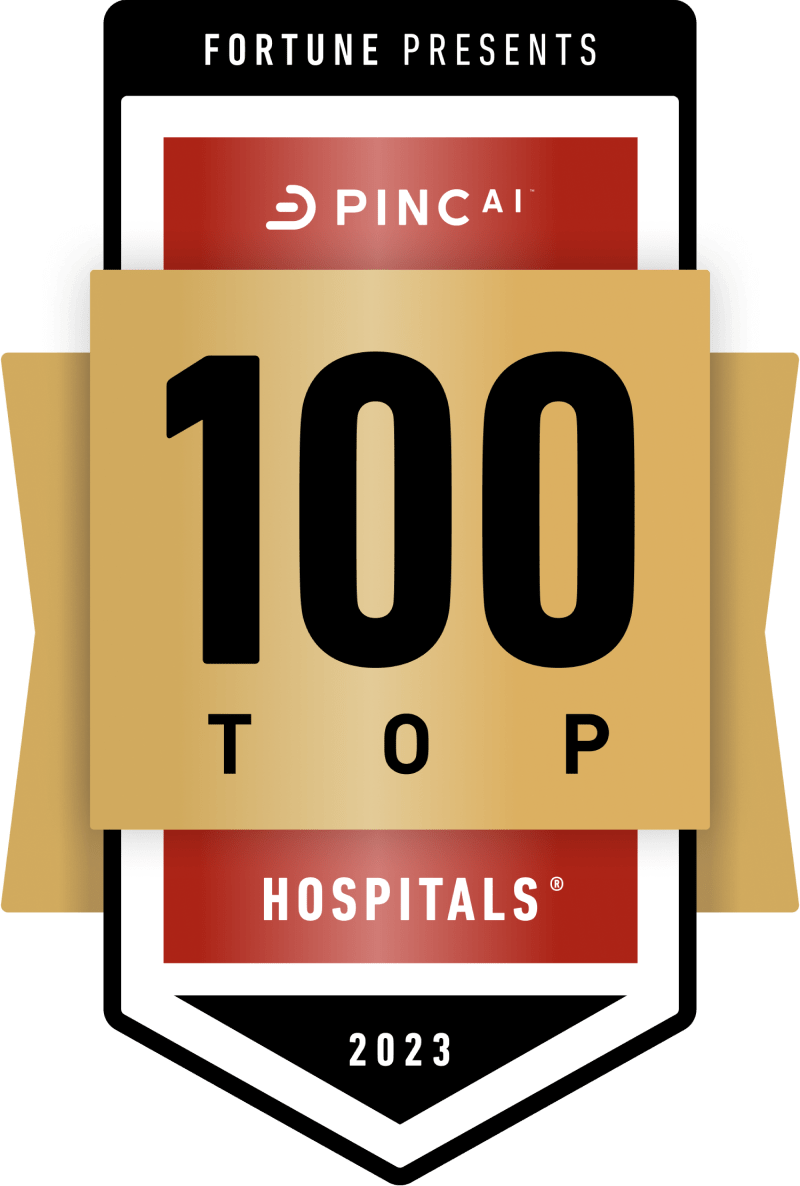 Clermont, FL (Sept. 27, 2023) – Orlando Health South Lake Hospital was identified as one of the nation's 100 Top Hospitals® according to an independent quality analysis provided by PINC AI™ and reported by Fortune.
To create the list, an objective, quantitative analysis of publicly available data was conducted to identify the top hospitals in the United States. The primary purpose of the PINC AI™ 100 Top Hospitals® program is to inspire hospital and health system leaders to pursue higher performance and deliver added value to patients and communities. The program leverages transparent, nonbiased data to help inform strategies for sustained performance. Organizations do not apply to participate in the study, and award winners do not pay to market their honor.
"Our team has an unwavering commitment to patient safety and quality, and this recognition is a testament to that," said Lance Sewell, president of Orlando Health South Lake Hospital and senior vice president of Orlando Health North Central Florida region. "This acknowledgement leaves us honored and fuels our passion for delivering the highest level of care to our community."
Orlando Health South Lake Hospital is a nationally-recognized comprehensive medical and surgical acute care facility serving the residents of Lake County as a trusted member of the community for 75 years. The hospital's dedicated team of physicians, nurses, clinicians and medical professionals is committed to providing expert and compassionate care.
100 Top Hospitals® program performance
This year, based on comparisons between the study winners and a peer group of similar hospitals that were not winners, the analysis found that the winners of the 100 Top Hospitals® program delivered better outcomes while operating more efficiently and at a lower cost. Compared to non-winning hospitals, this year's winners had:
31 percent fewer mortalities than non-winning hospitals.
9 percent fewer patients with complications.
39 percent fewer healthcare associated infections (HAIs).
Nearly 20 percent lower inpatient expenses per discharge.
0.5-day shorter average length of stay.
Better reported patient experience scores, with a top-box Hospital Consumer Assessment of Healthcare Providers and Systems (HCAHPS) score of 77 percent versus 70 percent for non-winning hospitals.
"As hospitals continue to share the nation's focus on changing healthcare for the better, hospitals and health systems are recognizing the importance of identifying areas within their walls for quality improvement," said Leigh Anderson, Premier's Chief Operating Officer and the leader of PINC AI™. "The transparent and nonbiased measures this study provides helps leaders make informed decisions for change, and proves that Orlando Health South Lake Hospital excels across a range of core performance indicators, which can directly lead to significantly higher quality patient outcomes, with fewer readmissions and complications."
About Orlando Health
Orlando Health, headquartered in Orlando, Florida, is a not-for-profit healthcare organization with $9.2 billion of assets under management that serves the southeastern United States and Puerto Rico.
Founded more than 100 years ago, the healthcare system is recognized around the world for Central Florida's only pediatric and adult Level I Trauma program as well as the only state-accredited Level II Adult Trauma Center in Pinellas County. It is the home of the nation's largest neonatal intensive care unit under one roof, the only system in the southeast to offer open fetal surgery to repair the most severe forms of spina bifida, the site of an Olympic athlete training facility and operator of one of the largest and highest performing clinically integrated networks in the region. Orlando Health has pioneered life-changing medical research and its Graduate Medical Education program hosts more than 350 residents and fellows.
The 3,888-bed system includes 29 hospitals and emergency departments – 24 of which are currently operational with five coming soon. The system also includes nine specialty institutes, more than 100 adult and pediatric primary care practices, skilled nursing facilities, an in-patient behavioral health facility under the management of Acadia Healthcare, and more than 60 outpatient facilities that include imaging and laboratory services, wound care centers, home healthcare services in partnership with LHC Group, and urgent care centers in partnership with FastMed Urgent Care. More than 4,750 physicians, representing more than 100 medical specialties and subspecialties have privileges across the Orlando Health system, which employs more than 27,000 team members and more than 1,200 physicians.
In FY22, Orlando Health served nearly 142,000 inpatients and 3.9 million outpatients. The healthcare system provided more than $782 million in total value to the communities it serves in the form of charity care, community benefit programs and services, community building activities and more in FY 21, the most recent period for which this information is available. Additional information can be found at http://www.orlandohealth.com, or follow us on LinkedIn, Facebook, Instagram and Twitter @orlandohealth.